Making a WinME Bootdisk
[ Home ] [ Site Map ] [ Site Search ] [ Back to last page ]
---
For an alternative method go here or here. Want to download a bootdisk image with generic CD-ROM support?
The reality.
Well folks, it looks like Microsoft has decided to make it very hard to make a boot disk under WinME. They have removed the SYS switch from the FORMAT command, and the SYS command can only work your "C" drive. The SYS switch or command transfers the files needed to a floppy disk or hard drive to make them boot-able.
I have tried for hours to find an easy way to make a bootdisk under Windows ME without success. It looks like the only way to do so is to use WinME's "Startup Disk" creation tool. To use it do the following; Go to start | settings | control panel | add/remove programs | startup disk.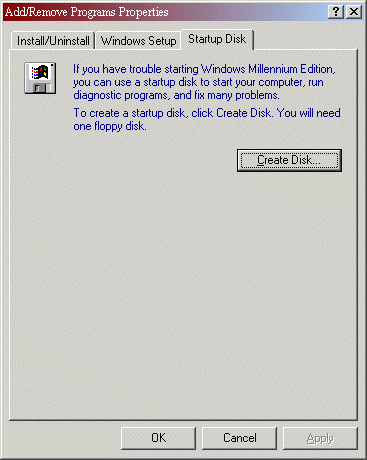 The good news is that your new startup disk will provide CD-ROM support for most CD-ROMs. The bad news is that you will only have around 450K of free space left.
Now what?
After you've made your startup disk you can then remove all of the files on it except the following:
COMMAND.COM

IO.SYS

MSDOS.SYS
This will give you a bare-bones bootdisk. I suggest that you keep both a startup disk and a modified boot disk. The new boot disk you made can be used for stuff like doing a BIOS update, or anything else that requires a bootdisk.
If you want, you can find images of both at my downloads page.
---
[ Home ] [ Site Map ] [ Site Search ] [ Back to last page ]
Last Revised: 11/06/2000